"As a boy I fell a captive to the wiles of the Dahlia while innocently looking over a fence at some fine blooms in a neighboring yard–a simple act, yet a life work grew out of it."—W.W. Wilmore, "The Dahlia Manual, A Treatise on Dahlia Culture, by W.W. Wilmore, 1907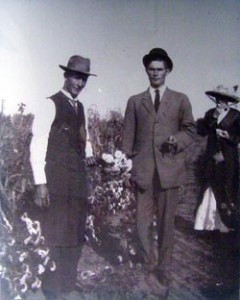 That boy didn't know it then, but his fascination with the lovely bloom over the fence would eventually gain him a profitable business and the admiration of dahlia growers worldwide. William Wallace Wilmore was born in Laurel, Maryland, in 1861, and moved with his family to Colorado when he was 11 years old. The family farmed land off West 26th Ave. in Wheat Ridge, growing and selling vegetables, wheat and oats at a time when folks could hunt along the South Platte River, Ute Indian tribes camped by Sloan's Lake and Denver had horse-drawn trolleys.
One of eight children, W.W., as he was known, helped in the gardens and drove a wagon into Denver to sell vegetables. But he never forgot those flowers and in 1883 he took over the front yard for growing flowers. Every evening he bundled up bouquets and loaded them into the wagon, along with the vegetables. As sales increased, the front yard became a show place for the neighborhood.
"It is my steadfast belief that I was the first person to peddle flowers in the city of Denver; for as yet, there was not a flower store in operation in Denver; nor for quite a number of years yet to come."—W.W. Wilmore, A History of W.W. Wilmore Nursery.
The extra money he made from flower sales allowed W.W. to build his own home two years later on 10 acres at the northwest corner of West 38th Ave. and Wadsworth, which would become the site of W.W. Wilmore Nursery. A year later, the 25-year-old entrepreneur married Josephine Ely. Floral horticulture continued to fascinate W.W. and in 1886 he made a gutsy business decision that led to his legacy: he put all his resources into growing and propagating flowers, especially dahlias.
"The Dahlia, however, possesses a happy, easy-going disposition, and readily adapts itself to almost any soil or situation, except dense shade and wet, sour soil."—W.W. Wilmore, The Dahlia Manual, A Treatise on Dahlia Culture
The gardens at 38th and Wadsworth were awash in blooms, attracting wholesale and retail customers from all over the world. Demand required the printing of the first dahlia catalog in the United States in 1893. Throughout his career W.W. propagated hybrids and it is believed that he developed between 800 to 900 new varieties. His expertise was well-respected as he was one of two recognized dahlia specialists in the United States. He won numerous awards, including a medal for pioneer service in popularizing the dahlia from the National Dahlia Society. In 1907, W.W. wrote "The Dahlia Manual, A Treatise on Dahlia Culture."
The residence at the end of 38th Ave. was expanded and rebuilt several times as the family grew. He and Josephine had six children, one of which died at the age of 4. Eventually a tidy brick house was built and became known as Dahlmoor.
"We had a very beautiful garden which attracted the public. We allowed the people to go through the garden anytime, but did not sell on Sundays. On several occasions, people who had been all over the world would say they had never seen such a sight as our garden."—Josephine Wilmore, The History of W.W. Wilmore Nursery.
In the 1920s, Denver was growing and residents were looking to plant trees and shrubs around their homes. Two sons, Scott and Charles conspired to convince their father to expand the business and sell trees. It only took a few conversations and in 1924, Wilmore Nursery brought in their first shipment of shrubs and trees. Shortly thereafter, at the age of 65, W.W. retired and sold the business to the two brothers. Eventually Charles sold his half to Scott.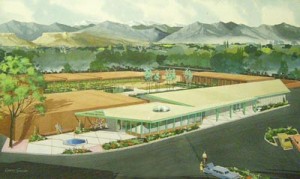 Under Scott's direction, the business added a "garden center" in the 1930s and was likely the first such retail business in the state of Colorado. The retail store sold annuals, perennials, gardening supplies and is believed to be the first business to provide cut Christmas trees and wreathes in Colorado. Scott was always looking for new evergreen varieties that would grow well in Colorado. In 1945, he was hiking with a partner southwest of Morrison when he spied an exceptional gray-green upright juniper. He grafted the plant and thus was "born" Juniperus scopulorum "Gray Gleam," plant patent no. 848. You can still buy this evergreen at Wilmore today!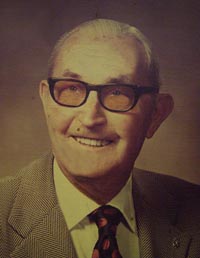 In 1957, Scott and his wife Ruth realized that the business had grown beyond what they could manage on their own and they hired Steve Driftmier as general manager. Scott and Ruth did not have any children so when they retired in 1972, they sold the property and business to Steve and his wife, Abby.
Five years later, with Denver growing to the south, Steve opened a satellite store off County Line Road in Littleton, which is the current site of Wilmore Outdoor Living Center. The store is the former home of Mr. Abbott, who owned a lumber yard in Littleton. When the Abbott's sold the property to Steve, there were no houses south of Dry Creek Road and County Line Road was a dirt road. With two retail stores to stock, Steve decided a wholesale nursery was needed and he started Little Valley Wholesale in Brighton, CO.
In 1989, with demand growing in Highlands Ranch and Littleton, the original Wilmore Nursery in Wheat Ridge closed and all the business was transferred to the Littleton store. The front of the house was removed and a greenhouse attached in 1982 and expanded in 1992 to the present-day configuration.
Today, when you visit Wilmore, you'll still be able to buy dahlias (sold in the annual section) and gray gleam junipers (found in the upright junipers section), an ongoing tribute to our founding family.