Since the end of the last ice age, about 10,000 years ago, humans have been pushing seeds into soil every spring. The urge to plant strikes many of us as soon as a warm late winter day comes along. If you're anxious to get your hands dirty, come on in and browse our seed room. We've got vegetable and flower seeds from several local suppliers: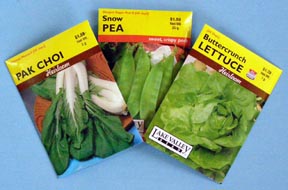 Lake Valley Seed in Boulder, offers a large selection of vegetable and flower seed, including organic and heirloom seed. All seed is not genetically modified (GMO-free) and untreated.
Botanical Interests in Broomfield specializes in organic and heirloom seeds. No GMO seeds and all seeds are untreated.
Beauty Beyond Belief in Boulder, specializes in wildflower seeds, heirloom and organic heirloom vegetable seeds, and native grasses. All seed is GMO-free.
A Quick Primer on Seed Terminology
Heirloom seed comes from plant varieties grown before hybridizing became routine for seed companies. They are open-pollinated, which means that saved seed will produce the same characteristics as the parent plant. Hybrids (plants that contain genetic material from two different varieties) are grown to improve a specific characteristic, such as color, disease-resistance or yield. You'll find both hybrid and heirloom seeds at Wilmore.
Certified organic seeds come from plants grown in compliance with the USDA's National Organic Program, which means the plants were grown without synthetic fertilizers and pesticides, sewage sludge, irradiation and genetic engineering. GMO-free seed has not been altered through genetic engineering. All certified organic seed is GMO-free. Untreated seed has not been coated with pesticides or fungicides, which is often done to preserve them in storage. All certified organic seed is untreated.
Seed Starting
If you can't wait for the soil to warm up, get your seeds started indoors. We have potting soil, seed starting trays, lights, warming mats and peat pots. We also have hydroponic supplies if you want to grow year-round in the house. Not sure what seeds to plant outside and when? Please consult our fact sheet on Cool vs Warm Season Crops.
Bulbs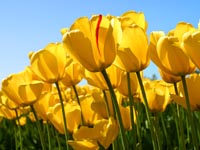 Nothing says "spring is coming" like crocuses peeking out of the soil in February. Such joy! Bulbs are the best and fastest way to brighten your yard early in the season when the garden looks so drab. Crocus, daffodils, tulips are popular spring bloomers and are available in the fall for planting. Summer-blooming bulbs, such as caladium, allium, dahlia and gladiolus are available in early spring for planting. Pick up a bag of bulb food to ensure your plants grow vigorously. In a few years, you can divide the bulbs and expand your garden or share with your neighbors!
Would you like to see flowers blooming in the winter? In the fall we have bulbs for forcing (tricking plants into blooming early)—a great gardening activity for kids. When it's cold and dark outside, you'll enjoy indoor blooms all winter. Come in and ask us how to do this. It's easier than you think! And blooming bulbs make great holiday gifts.
Grass Seed
Seed patch, a combination of mulch and seed, is a great way to repair a bare spot in your lawn. However, if your entire lawn area is thin, it's time to over-seed with a similar but more vigorous variety. Come in and take a look at our bulk grass seed, which is weed-free and locally harvested. We have several varieties that are perfect for Colorado. Just make sure you do the proper soil prep first to get the best results.
Top Photo: iStock.com